This post is perfect for you if you're looking for the best online singing courses in 2023. It might be challenging at first to choose the online singing course that suits best your objectives.
Additionally, the best-suited course should not only emphasize enhancing your vocals but also the abilities and methods that will genuinely improve your overall skills as a musician. But fret not! To make this process easy, we've compiled a list of the best online singing courses for you.
Moreover, this post serves as a guide for you to choose the most appropriate singing course for you. So let's get started!
What Is The Best Online Singing Course?
For aspiring singers, finding the best online singing course can be a game-changer. With so many options, it's quite challenging to choose the program that best suits your ultimate goal.
While some classes emphasize vocal techniques, others guide students in stage presence and performing skills.
So the best thing is to look for singing courses that provide an overview of a lesson plan, instructor's details, and students' feedback. The best online singing platform is ultimately the one that enables you to achieve your singing goals and polishes your singing abilities.
To give you the list of best online singing courses, we've taken into account a variety of factors including pricing, value for money, vocal warm-ups, vocal technique, and breathing exercises.
Let's have a look at the list of best online singing courses below and take your singing abilities to new heights.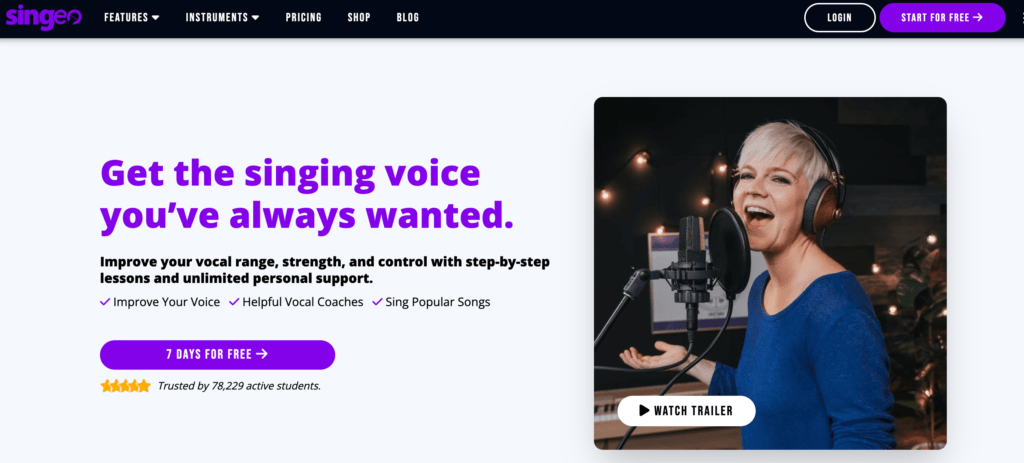 Singeo, the newest member of the prestigious Musora family, which is famous for its outstanding music education platforms like Pianote, Drumeo, and Guitareo, is one notable choice. Singeo offers a thorough method of teaching music that is specially created for complete beginners, giving you a reliable place to begin your singing journey.
With the Singeo method, you are at liberty to learn at your own pace and advance progressively. Singeo provides you with practical tools to hone your vocal abilities and solidify your technique, with a focus on personal practice.
Singeo's focus on fostering all-rounded musicianship is what actually sets it different. Singeo goes into essential facets of musicianship, such as music theory, in addition to vocal technique. It ensures that you not only learn the technical parts of singing but also learn how to create new music.
Pros:
Systematically crafted lessons that help you sing better
Useful tools and visual aids are accessible to you to improve your learning
Engage with vocal development instructors who are knowledgeable, enthusiastic, and dedicated.
Gain from useful tasks that strengthen your comprehension and application of important ideas.
Join an encouraging learning community that promotes a nurturing environment for development.
Singeo, which is geared towards beginners, places a high priority on your comfort as you begin your singing adventure.
Emphasizes the value of individual practice, which enables you to improve your abilities at your own rate.
Explore the anatomy of singing to learn more about the technical elements of vocal performance.
Cons:
Even while Singeo has top-notch content, some learners would want even more. The site, nevertheless, is always growing and promises that there will be upgrades and new materials to enhance your learning.
Best for:
People who want to learn how to sing and looking for the right option.
Singers with experience want to improve their knowledge of music theory and practice methods.
Overall:
Singeo is a superb platform for everyone wanting to discover and comprehend their own voice, in general. It strongly focuses on individual practice and offers beneficial exercises to promote development. You can anticipate seeing quick improvements in your vocal skills if you use the Singeo Method. The platform also provides a wealth of useful extra features and supports a lively, welcoming community, fostering an immersive learning environment.

The extensive online singing course Elite Singing Techniques, which is offered by Udemy, claims to help you realize the full potential of your voice. This course is intended to give you a wide variety of tips and tricks to improve your singing skills and elevate your vocal performance.
You can anticipate gaining a thorough understanding of a variety of vocal methods including breath control, vocal range expansion, pitch accuracy, tone shaping, and vocal agility. The training includes both theoretical information and hands-on activities so that you can immediately put the ideas and methods into practice while singing.
The course focuses on performance skills, which is one of its most notable aspects. In addition to emphasizing vocal technique, Elite Singing Techniques offers insightful advice on audience engagement, stage appearance, and microphone usage. This all-encompassing strategy guarantees that you improve not just your voice talents but also your performing abilities as a whole.
You will have access to excellent video lessons, digital materials, and vocal exercises to do at your own pace throughout the course. The instructor also fosters a friendly learning atmosphere by offering feedback.
Pros:
Offers in-depth technical training for people looking for more comprehensive training for singing.
Offer flexibility so that you can learn at your own speed
Led by Eric Arceneaux who is a renowned educator with years of professional expertise
Provides a variety of lesson formats and support resources for a well-rounded educational experience
Especially useful for intermediate vocalists who sometimes show a lack of interest in e-learning sites
Lessons that are thorough and useful and that you may use to improve your singing
Cons:
Given that the subject is not fully covered, some students may perceive the course's content to be rather brief.
Occasionally giving extra explanations, which could make the course longer.
Best for:
People who genuinely want to explore the technical facets of vocal improvement should take this course.
Especially useful for intermediate singers who are confident in their voice but need direction on how to warm up properly and ease the strain.
Overall:
Enrolling in this online course allows you to benefit from Eric's genuine enthusiasm for imparting his knowledge while simultaneously making an investment in your voice growth. In his course, he disseminates useful techniques and precise information aimed at removing typical voice difficulties including hoarseness and strain. Take the chance to learn from a superb teacher who is dedicated to assisting you in sounding your best and realizing your full vocal potential.

The excellent online singing course Singing Made Easy lives true to its name. This course, which is geared towards beginners, offers an approachable and accessible learning environment that makes the process of learning to sing fun and doable.
The course distinguishes itself with its clear set of instructions, which simplifies and clarifies difficult voice methods. The sessions are well-organized and lead students through a variety of singing techniques, including pitch accuracy, vocal range, and breath control. A comprehensive approach to vocal growth is ensured by the course's coverage of crucial subjects including vocal warm-ups and correct vocal care.
Singing Made Easy stands apart due to its focus on real-world applications. The training offers a variety of vocal drills and activities that let students practice and advance in their abilities. The learning process is further improved by the included audio samples and demos, which make it simpler to understand the ideas and apply them to one's own singing.
Additionally, Singing Made Easy offers a helpful community where students may interact with other students and get insightful criticism from knowledgeable vocal instructors. As a result of this sense of belonging, students are inspired to continue participating in class and developing their vocal abilities.
Pros:
Gain knowledge from a highly qualified instructor who has a successful singing career
Exercises that you can do to apply your newly gained knowledge
Specifically designed for beginners, providing a strong foundation
Lessons are simple to understand and offer short, effective learning opportunities
Thorough explanation of the foundational singing skills
Encourages advancement to Level 2, allowing you to develop your abilities even further
Builds a solid foundation for you to build on as you advance in your journey
Cons:
The course's small duration can make certain topics feel less thoroughly explored.
There may be more in-depth resources elsewhere for some of the material covered in this course.
Best for:
Beginners who wish to not only improve their performance on certain songs but also want to engage in useful vocal exercises and activities are the best candidates for Singing Made Easy.
Overall:
Gabriel's proficiency and talent are evident just by watching his mesmerizing performances. He covers all the essential elements to help you begin your road toward mastering this skill as an accomplished vocalist. Singing Made Easy provides helpful drills and exercises that concentrate on establishing your range, breathing, and vocal positioning. The benefit of SkillShare is the opportunity to examine several subjects with a single lesson, even when the information might not be entirely new. Do not pass up the chance to study with Gabriel Burrafato and unlock your voice potential.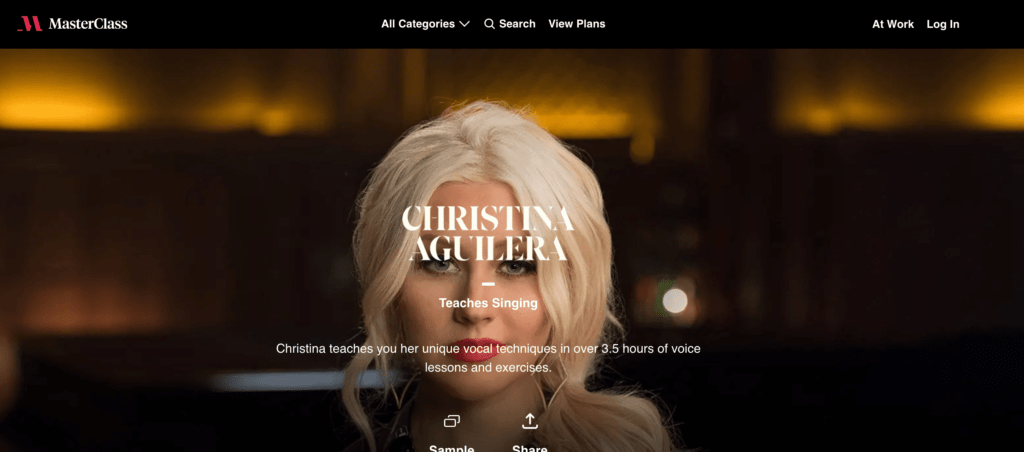 An exclusive online course called "Christina Aguilera Teaches Singing" offers aspiring singers the chance to study with one of the most recognizable voices in the music business. This course, taught by Christina Aguilera, includes priceless tips, tricks, and first-hand accounts to aid learners in honing their own vocal skills and discovering their true voices.
Christina Aguilera imparts her vast knowledge and experience from years of working as a professional singer and performer throughout the course. The opportunity to delve deeply into subjects including vocal warm-ups, breath control, range extension, vocal strength, and emotional expression will be provided to learners. Individuals taking this course will strengthen their vocal abilities and lay a solid basis for their singing career by following Christina's instructions and working through the supplied exercises.
The intimate and individual character of Christina Aguilera's teaching technique is what distinguishes this course from others. By sharing her own tales, struggles, and inspirations with viewers of her video classes, she not only displays vocal methods but also provides insightful information on the attitude and artistic ability of a great singer. With the help of this immersive learning experience, learners may get to know Christina better and learn about the innovative thinking that went into creating some of her most famous performances.
Pros:
Gain knowledge from a well-known teacher who has experienced both the highs and lows of a prosperous singing career.
Take advantage of a tailored approach that offers insights into Christina Aguilera's path and incorporates influences of her career.
Investigate the vocal warm-ups Christina Aguilera herself does to help you improve.
Expand your knowledge of many voice styles, textures, and tones to increase your adaptability.
Become familiar with the technical components of playing, such as stage and studio microphone setups.
Discover more about becoming a singer, including how to control stage fright and express oneself honestly.
Enjoy high-quality production values that provide an immersive learning atmosphere.
Cons:
Christina Aguilera's career and pop vocal technique is heavily focused in this course, making it less appealing to students looking for straightforward, conventional instructions in a variety of musical genres.
Instead of providing complete technical instructions, the teaching leans more towards storytelling.
The training does not cover every facet of singing; it just teaches the correct methods.
Best for:
If you prefer learning via tales, experiences, and anecdotes, this course is a great fit. It's especially good if you're fascinated by pop singing.
Fans of Christina Aguilera who want to learn straight from their hero must do it.
Overall:
With her unmatched vocal range and iconic voice, Christina Aguilera has defined an entire generation. It's extremely exciting to get the chance to benefit from her priceless experiences and acquire an understanding of how she approaches performing. Instead of focusing on the technical aspects that other courses address, this course gives you a clear understanding of what it means to be a celebrity and what you can learn from Christina as a singer and an artist. Accept the opportunity to get knowledge from a genuine pop legend and unlock your own vocal excellence.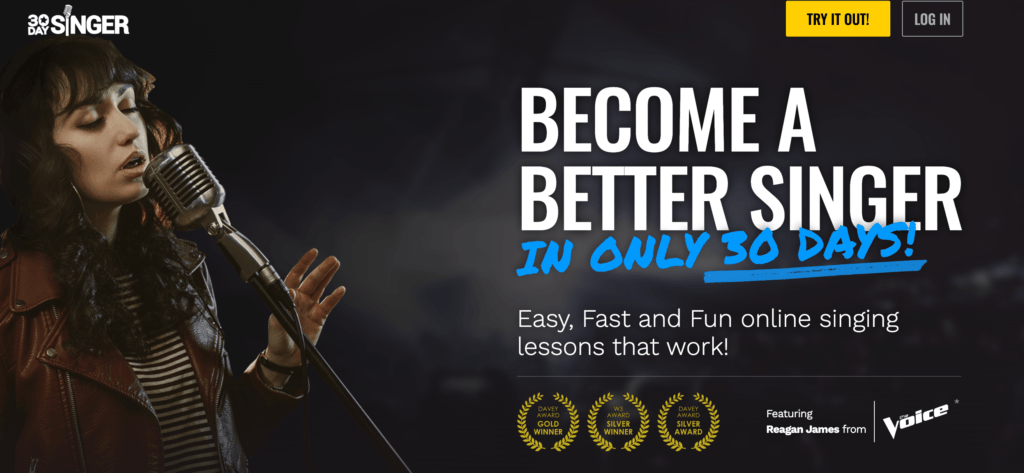 A cutting-edge online singing course called 30 Day Singer seeks to change new vocalists in only 30 days. This workshop is created to provide students of all levels with a transforming singing experience through its planned and thorough approach.
To assist participants in honing their vocal technique, expanding their vocal range, and enhancing their overall singing abilities, the program provides a variety of instructional films, exercises, and vocal warm-ups. Because the courses are presented in a step-by-step fashion, novices may easily follow along and advance at their own speed.
The emphasis on practical application in 30 Day Singer is one of its distinguishing qualities. The chance to practice singing along with well-known songs from different genres gives participants the chance to put the skills they've learned into practice. As a result, vocalists might gain confidence and create their own distinctive style.
Additionally, the training emphasizes the significance of good posture, breath control, and vocal health while offering helpful advice and exercises to enhance vocal performance and prevent strain or damage. Participants also get access to a helpful online community where they can interact with other singers, discuss their progress, and receive criticism and inspiration.
Pros:
Over 150 classes in a wealth of information, with their YouTube channel serving as a supplement.
Emphasis on performance and self-assurance-building will help you develop as a versatile vocalist.
Builds a firm foundation in fundamental singing methods to give you a good place to start.
Enables you to build your abilities while practicing the style in which you are most interested.
Gives you instructions to help you sound like the musicians you like, enabling you to copy their distinctive techniques.
Provides a wide range of teachers and courses, enabling customized learning experiences.
Offers the choice to schedule extra private courses for more personalized learning.
Cons:
The name of the platform may be deceptive for novices because it makes the subjective promise that you can perfect singing in just 30 days.
On YouTube, some of their content is freely accessible, which can lessen the expensive courses' exclusivity.
For novices who might benefit from more concentrated sessions, the curriculum could feel wide.
Best for:
Beginners who want to quickly advance their singing skills should use 30-Day Singer.
Especially helpful for individuals trying to sound like particular musicians or hone their talents in a particular genre.
Overall:
A full platform is provided for new vocalists by 30 Day Singer, one of the most well-reputed and respected online singing classes. You may determine if their teaching approach fits your tastes by using the free trial and having access to their YouTube video. The platform puts a lot of attention on style and performance, which are essential skills for anybody looking to feel at ease and confident in their singing ability. Get this chance to learn more about 30-Day Singer and to hone your talents.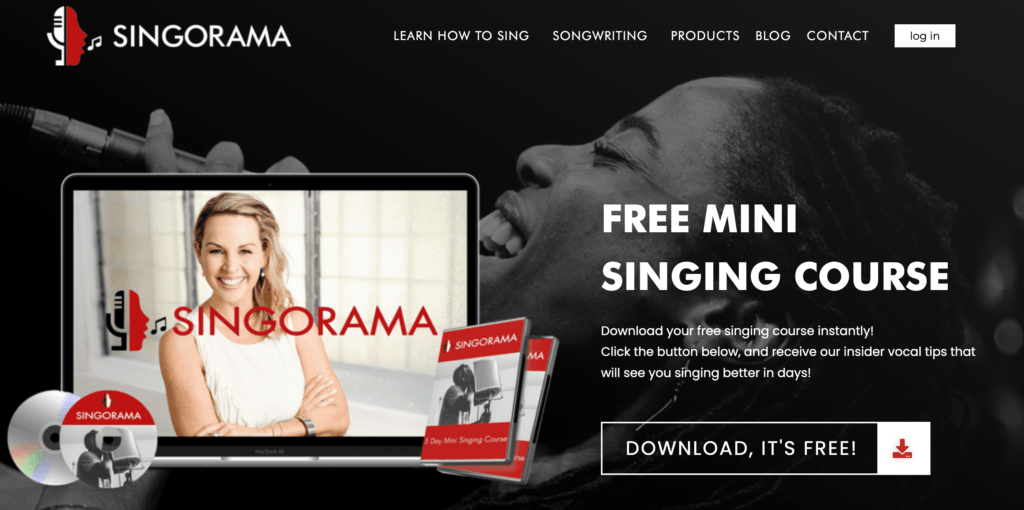 Another well-known singing-only platform called Singorama provides a distinctive method where you pay once for the complete course, setting it apart from subscription-based models.
Lessons on a variety of subjects, including autotune technique, interval training, tonality conditioning, and more, are included with your purchase. A user-friendly interface, a small recording studio, and a helpful manual that walks you through the process of reading music are all included.
Pros:
A convenient learning environment with easy access to all necessary resources in one location.
The course offers technical information to help you hone your abilities and is designed for intermediate and advanced students.
A wealth of other materials to assist your study process.
A wide range of subjects and methods are explored, guaranteeing a thorough investigation of singing.
With 120 tracks, the program offers enough practice and application material.
There are chances to get the course for less during regular promotions.
Cons:
Lacking current industry changes, the course material may be a little old.
As a single course, there are fewer chances for ongoing learning because fresh lessons and teaching methods are not continuously added.
Best for:
Singorama is the best option for anyone searching for a centralized learning platform.
Especially for those who want to acquire specialized skills and elevate their intonation.
Overall:
Singorama is a thorough, downloadable course that enables you to explore the practical and technical facets of singing while connecting them to your own performances. The other materials, such as the app with a large song collection, the practice mini-studio, and the sight-reading guide, significantly enhance your learning process. No matter what level of singer you are—intermediate or advanced—Singorama offers a useful tool to help you reach your full potential. Start learning to sing right now with Singorama's all-inclusive course.

Yousician distinguishes itself from the other services on the list by providing a distinctive method of singing instruction. Yousician uses technology to create a unique learning environment rather than adhering to the traditional teacher-student approach.
You may start your singing adventure at your own speed thanks to technology. You may learn as you go by integrating courses into your calendar and having access to them from any location you choose with the help of tools like Note Catcher and Check The Note.
Yousician's adaptability is a key benefit. No longer necessary are actual instruments like pianos or guitars for singing classes. This means that you may enter the world of singing without having to purchase additional equipment or deal with wires and other hassles.
Pros:
With Yousician, learning is made more enjoyable and motivating by operating similarly to a video game. Gaining points as you advance and hit the proper notes encourages your growth even more.
Yousician offers helpful tools like Chase The Note, which lets you listen to recordings of your performances and monitor your development. You also get activity reports to assist you keep tabs on your progress.
Yousician provides an easy and uncomplicated learning experience that is especially helpful for novices. The platform's interactive education methodology is becoming more and more well-liked among new users.
Cons:
Yousician may fall short of creating a direct, personalized connection between teacher and student, which might be beneficial for novices looking for direction.
The majority of Yousician's clients are beginning vocalists. As a result, for experienced players searching for more complex strategies and material, the platform could not provide as much depth.
Since singing is a highly individualized ability, it may be difficult to fully understand its nuances using only technological means.
Best for:
Beginner singers who want to correct their pitch and feel confident striking the appropriate notes.
People who are interested in self-paced learning that uses cutting-edge technology.
Overall:
Yousician shows how technology may be used to provide us access to new knowledge and skills. Yousician enables people with hectic schedules to follow their singing ambitions on their own terms by offering a flexible learning environment. Yousician is a great option for students looking to build confidence in striking the proper notes in the right order, even though it might not provide the same depth as some other platforms.
8. The Fundamentals Of Singing For Complete Beginners
A thorough introduction to the fundamental topics of singing may be found in Fundamentals of Singing. This course guarantees that you will receive advice from an experienced instructor because it is taught by Jayne Carmichael Norrie, a voice coach with more than ten years of experience.
This course is the shortest on our list in terms of time and was created especially for people who are eager to enter the world of singing. Even though it's brief, it covers the most important exercises and methods, giving novices a strong foundation to work upon.
Pros:
Exercises are clearly broken down for efficient practice
Ideal for brand-new starters
Emphasis on using practical techniques
Gives a thorough introduction to the voice technique
Quick teachings that are simple to understand
Cons:
The course could be too brief Audio quality issues
For more advanced students, it can be too simple
Best for:
Complete novices who wish to build a solid fundamental grasp of vocal mechanics.
People with demanding schedules since it provides a concise review of the principles of singing.
Overall:
For those starting out in singing, The Fundamentals of Singing is a great resource. You'll learn the fundamentals of your voice functionality and the importance of techniques in singing in just four sessions. The course's content is succinct and simple to understand, helpfully deconstructing ideas and activities. If you've been on the fence about singing, think of this course as your entry point.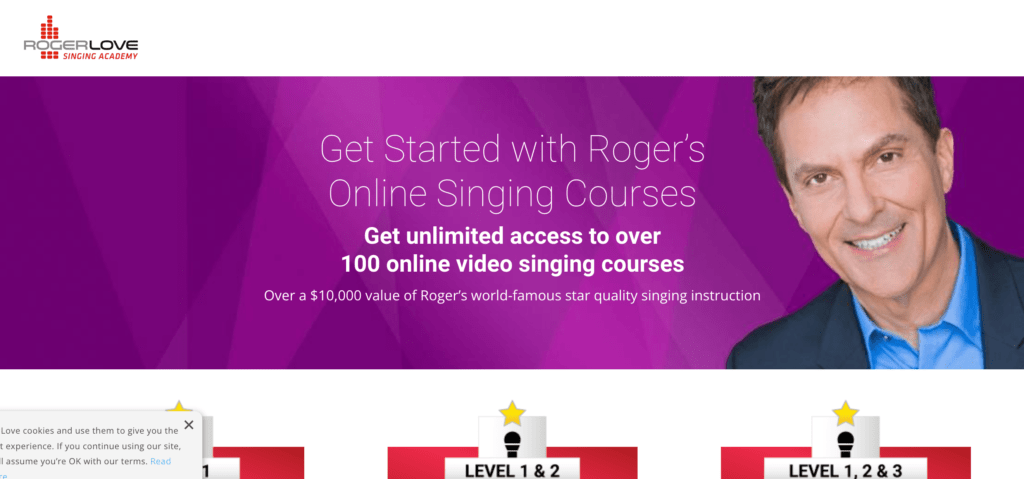 For those who are committed to kicking off their singing careers, Roger Love's Singing Academy is a great resource. This school provides a thorough 14-week program with a variety of price choices, including Basic Level at $197/£145.52, Mid Level at $297/£219.39, and Top Level at $497/£367.12.
The academy offers in-depth video lessons and helpful insights into the world of singing. It is run by a qualified vocal coach with expertise working with well-known musicians like Eminem and Gwen Stefani.
The academy offers helpful tips and tricks thanks to its genre-specific coaching, in-depth video courses, and emphasis on mastering control over voice parts.
Pros:
Three levels in a well-structured program with the option to buy a level at a time.
genre-specific advice catered to each person's tastes.
Put your attention on mastering voice control, particularly with regard to vibrato and breathing.
Emphasis on connecting with the audience, being at ease on stage, and controlling performance anxiety.
Comprehensive information and suggestions from a specialist in the field.
Suitable for all levels of expertise.
Cons:
Level 3 is primarily designed for novices and has a small amount of practical lessons.
High price point, which may be a reflection of the program's standing and brand awareness.
Best for:
Individuals who are dedicated to their vocal development and desire a disciplined, all-encompassing study environment.
Beginners want to hone essential skills and comprehend their voices more deeply.
Those who want to learn about certain genres and explore aspects of singing beyond the basics, such as stage presence and audience engagement.
Overall:
For those who want to enter the world of singing, Roger Love's Singing Academy provides a very inspiring and thorough curriculum. Although the higher price point could be a factor, the program's disciplined approach and the professional vocal tutor's experience make it a worthwhile investment for individuals who are serious about their singing career.

An online singing school called Superior Singing Method provides a thorough and organized method of vocal training. This workshop, developed by actor Aaron Anastasi, seeks to assist vocalists in developing their voices and vocal skills.
The eight modules of the course are divided into steps that make up the learning process. Each module covers a different technique and offers simple, straightforward directions, making it appropriate for novices. The information offers a variety of voice performance-enhancing exercises, advice, and techniques.
The emphasis on practical application is one of the unique aspects of the Superior Singing Method. It provides succinct and interesting lessons that enable students to practice the exercises and skills deliberately. Additionally, the school offers mini-courses that teach particular facets of singing and help students to hone their abilities in areas like breathing, tone, and pitch control.
The platform's user interface may not be as well-designed as some other online singing classes, despite the course's affordable pricing and one-time purchase option. Additionally, several customers have stated that the course needs new videos.
Pros:
Step-by-step approach with structured weekly modules
Comparatively inexpensive compared to other platforms
Sessions that are brief and fun and include easy exercises
Provides a free workbook, tests, and personalized feedback from Aaron
Gives newcomers sage guidance, pointers, and suggestions
There are available supplemental mini-courses and bonus modules.
Possibility of upgrading to more sophisticated plans
Cons:
The site's accessibility and user experience might be enhanced
Videos could require updating
The content could be more appropriate for complete novices than for seasoned performers
Best for:
Novice singers looking for thorough but reasonably priced singing training.
People who want a step-by-step learning process and want to discover the basics of their voice.
The training provides helpful criticism and the chance to get specialized advice from an expert.
Overall:
In conclusion, the Superior Singing Method offers novices a practical way to begin their singing careers. The website may not be very user-friendly, but it makes up for it with excellent information including workouts, advice, and criticism. The course is a good option for budding vocalists who want to lay a solid foundation because of its step-by-step format and additional materials.

A cutting-edge online platform called Singdaptive provides singers of all skill levels with a variety of singing classes and courses. It distinguishes itself from other platforms by offering a customized and flexible learning environment. Singdaptive is a flexible option for beginners since it attempts to meet the specific requirements and objectives of each singer.
Singdaptive stands apart due to its focus on personalized education. The online learning environment provides a wide range of courses addressing several facets of singing, such as technique, performance, songwriting, and music theory. Each course is created to deliver in-depth knowledge and practical activities customised to the learner's unique requirements and goals.
The instructors at Singdaptive are seasoned professionals with a wealth of knowledge and skill in the singing business. To assist students establish their own distinctive vocal styles, increase their vocal range, and enhance their vocal technique, they provide insightful advice, approaches, and insights. In their interesting and instructive courses, the instructors' enthusiasm for their subject and dedication to the development of their pupils are evident.
Pros:
Personalized and flexible teaching methods
Offers a variety of classes and lessons for all levels
Excellent educational materials and videos
Professionals that have worked in the industry
Emphasizes musicianship, performing abilities, and vocal technique
Gives advice on different singing genres and styles
Interactive drills and study materials
Provides a welcoming and interesting learning environment
Cons:
In comparison to other platforms, the pricing options could be on the expensive side.
Free materials are few, and some users might prefer more planned lesson plans.
Best for:
Singers who value a personalized, flexible learning environment
People of all skill levels who wish to enhance their musicianship, voice technique, and performing abilities.
Singers who want to discover new musical styles and genres and connect with a welcoming learning community.
Overall:
As a comprehensive and flexible online learning environment for vocalists, Singdaptive distinguishes out. It meets the unique requirements and objectives of each vocalist thanks to its individualized approach and a broad selection of classes. A worthwhile learning experience is made possible by top-notch instructional films, qualified teachers, and engaging activities. Singdaptive offers a beneficial investment for singers looking to improve their abilities and develop as performers, even though the pricing alternatives may be costlier than those of certain platforms.
Frequently Asked Questions
What is the best online singing course?
Depending on personal interests and needs, the best online singing course may differ, but some well-liked choices are Roger Love Singing Academy, Singing Success, and Singorama.
How much does a singing course cost?
A singing course may cost anywhere from $50 to $500, depending on the platform, the length of the course, and the resources that are provided.
How long do singing courses take?
The length of a singing course can vary; some provide brief programs lasting only a few weeks, while others may last for several months or even be intended for continual study and growth.
Conclusion
And that's it for the best online singing courses. If you have any questions feel free to leave them in the comments below!